Installation: Oct. 3, 2007
A nine-foot bust of Benjamin Franklin, commissioned by the city of Philadelphia, was installed in Girard Fountain Park at 4th and Arch Streets in the historic Old City neighborhood on October 3, 2007. See more photos of the installation in Dan Chow's Flickr set.
The one-ton sculpture arrives at 329 Arch Street on a flatbed trailer, having made the 17-mile journey from the Laran Bronze foundry in Chester, Pa. Its bronze base is stiffened with welded steel stringers.
Workers rig the sculpture for lifting -- by its neck. The surface is textured with casts of more than 1,000 keys contributed by Philly grade-schoolers. The bronze contains several brass nameplates in memory of city firefighters who gave their lives in duty, and some pennies from the old "Penny Franklin" sculpture that stood here.
Sculptor James Peniston, right, guides the sculpture into place. Six threaded rods have been screwed into its base; they must line up perfectly with epoxy-filled holes drilled in the pedestal.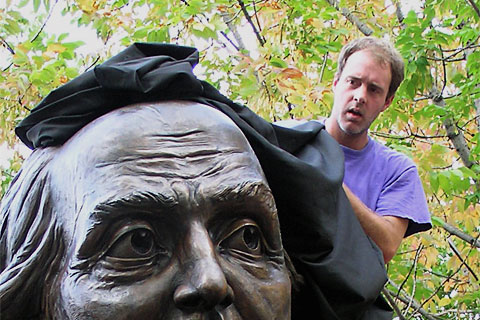 Safely seated, Ben gets a buffing. The sculpture will be officially unveiled and dedicated on Friday, Oct. 5 at 10 a.m. A First Friday reception followed that evening from 6 to 8 p.m.
Contact
Send email to: james AT jepsculpture.com
Copyright © 2000-2018 James Peniston