PHOTOS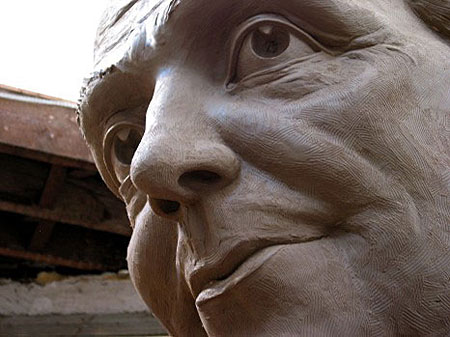 Closeup of Ben's face in clay.
On July 7, 2007, the first of more than one ton of bronze was poured for the sculpture, which was cast using the lost-wax process at Laran Bronze in Chester, Pa. Firefighters from Philadelphia and Chester dropped brass nameplates into the molten metal, an act of remembrance of fallen colleagues across four centuries of service. City representatives added a few pennies collected in 1971 for the Penny Franklin project.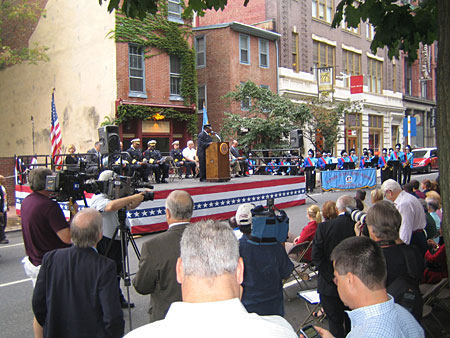 On Oct. 5, 2007, more than 300 people turned out for the unveiling of Keys To Community: city dignitaries, firefighters, family, neighbors, media, tourists, passersby. Even Ralph Archbold, Philly's best-known Ben Franklin impersonator was there to praise the sculpture and lead the crowd in three "huzzahs!"
Keys To Community, in morning light.
The ceremony was followed by cheesesteaks in the pocket park behind the sculpture.
A closeup of some of the 1,000-plus keys donated by schoolchildren and cast into the surface of the sculpture.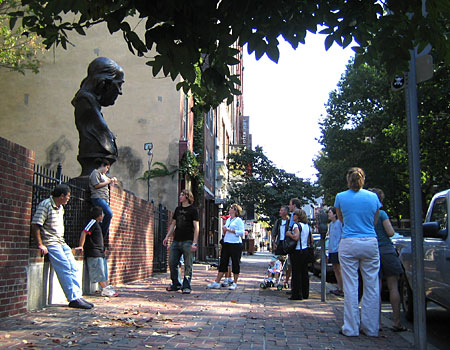 A big bust of Franklin draws a lot of attention from passersby.
In the early morning, Ben has Arch Street to himself.
Use These Photos
The 450-pixel-wide images directly above, and the specific representations of Keys To Community they contain, are released under the Creative Commons Attribution 3.0 United States License. Essentially, you may use them if you attribute them to "James Peniston Sculpture."
It would be nice to hear where you're using them, and if it's on the Web, a link back to this site would be appreciated. Want bigger images? Drop a line to info (AT) jepsculpture.com.
Contact
Send email to: james AT jepsculpture.com
Copyright © 2000-2018 James Peniston